This is a review that discusses possible reasons why the body adjusts to exercise by decreasing its energy output. According to CICO, if you burn 300 calories, that's "calories out (CO)", and if you do not increase "calories in (CI)", you should burn fat/lose weight. The problem is that this is not true. Instead, the body compensates by reducing energy expenditure for some or all of that exercise.
This is a (bit complex) review that discusses the mechanisms that might occur to reduce energy exposure:
If you decide to read this, I recommend grabbing some paper and writing down the acronyms. An example: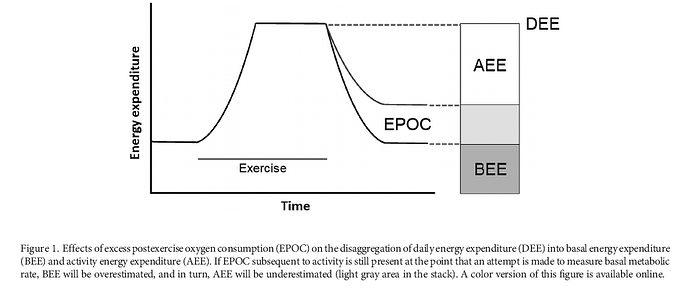 These (and other) acronyms are used all the time, and it's helpful to know what they are.
But that figure brings up an interesting point. If you're trying to measure basal metabolic rate/BEE (basal energy expenditure), you have to be careful WHEN you measure it. If you measure energy expenditure before exercise, that's the best time. If you measure after exercise, you get into this EPOC (excess post-exercise energy consumption) period. I've seen studies indicating that can last a while (even a day?).
He also shows a figure 3, where BEE and AEE vary over the day. So, if you're not measuring at the same time each day, you're potentially comparing two different results.
Anyway, it's a fascinating paper on how the body might compensate for increased exercise by reducing energy expenditure. (One that I will have to read multiple times to absorb.)