I was blown away when I heard Dr. Ken Berry on the last 2KD podcast rant about his friend who tries to get people to shrink their livers to make bariatric surgery easier on the surgeon and nurses. I had to research it more, partly out of skepticism and partly out of sheer horror and sadness. Turns out it's very true as seen here:

http://www.adipositas-behandlung.de/en/contact-service/info-area/protein-rich-diet-liver-shrinking-diet
A few months ago I saw Dr. Ted Naiman who turned me on to this idea of a PSMF (protein sparing modified fast). Essentially the idea that you can eat too much fan on keto and many people who are stalled do indeed do so:
In Amber's blog she references a Naiman tweet which brought me back full circle: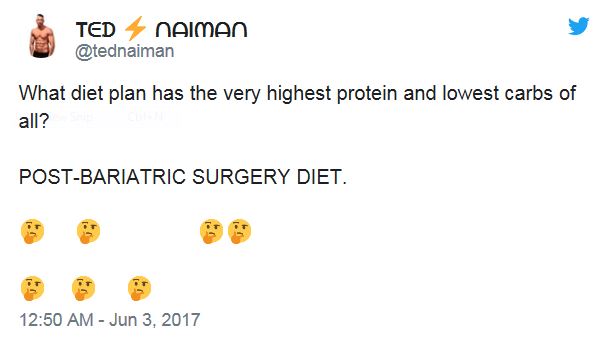 It's interesting because there isn't a ton of info on PSMF that I could find. By far some of the best references are this blog post by Marty Kendall:
And of course the PSMF bible is Lyle McDonald's Rapid Fat Loss Handbook
But it turns out that the concept of the liver shrinking diet and a PSMF are the same. Almost exact really. Give your body the protein and nutrients it needs and not much else. The medical community has known for decades that a version of a PSMF is the most effective way to lose excess fat. It's not something a person can do indefinitely but many moderately obese people could see great results from doing a PSMF for a 8-12 weeks. I'm fascinated by this concept, the science is there and it passes the sniff test. To me, eat all the fat you want and still lose weight has never really passed the sniff test. And as Naiman and Berger have stated many times, when your body is already HF all you really need is LC.
I'm thankful I've learned about some of this stuff before I was looking weight-loss surgery in the face, it's a shame more people aren't as lucky. It disgusts me that many of these doctors know effective non-surgical interventions but are either withholding the information or not connecting the dots. Wouldn't it be a novel concept to suggest some of these interventions before recommending surgery? Call me crazy but I sure think so.