Anyone have thoughts about omega 3 intake for those of us on a (long-term) keto diet?
When I went keto, way back in 2014, I tried to eat more fish. I even took fish oil supplements for a while, until after research, I determined the fish oil may or may not be real, and the research supporting supplements is all over the map.
After a while, I stopped even eating fish, except for Lent or anytime we had fish. I didn't eat sardines, for instance, which I ate before with "lunch". I also cut back/removed all seed oils and even started eating more beef (less PUFA) and eating less chicken/pork (more PUFA, in general, though it's hard to know).
When I get blood tests done, my measures of "inflammation" such as HS-CRP and ferritin are always low.
But when I had an Omega 3 test done, my O3s were abysmal (though my saturated fats were quite high):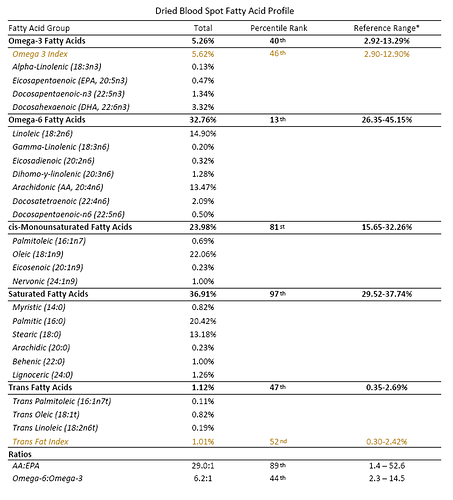 In the context of a keto diet, do you think omega 3s are still beneficial? Have you felt a benefit, for instance?
(In more detail, I have arrhythmia sometimes, due to cardiomyopathy diagnosed over 8 years ago. These had been fine until about 2-2.5 months ago, when all of the sudden I had two cases of major arrhythmia. These both occurred after riding my bike early Saturday morning, then working physically hard on the house all day, swimming, having a drink sometime during the weekend, etc. It could have been overwork, although I also wonder whether the Pfizer covid vaccine I got might play a role. The vaccine was at least 2 months previous, though. Not sure there's a connection.
Anyway, to the extent this IS caused by "inflammation", I've started adding back in fish, as O3s supposedly reduce inflammation and arrhythmia. But I also pulled back on my exercise, started taking 81 mg aspirin per day, and also curcumin – supposedly another "inflammation" reducer. I feel a heck of a lot better, but I changed like 9 variables.)