I saw this picture on youtube and I like the way this is stacked with the jello and it would be neat to keto it (modify) and use any type of fruit you want and maybe not use as much fruit or eat thinner slices?
Who says keto has to be boring, just don't eat as much of it?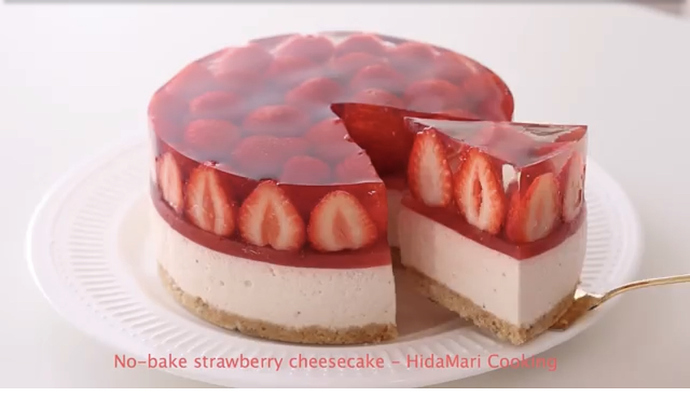 image link
"…I made a non-baked cheese cake with lots of fresh strawberries today. I put sour cream to let the cheese taste richer. It is also good if you make with yogurt or mascarpone instead of sour cream.
▷Ingredients(φ15cm round mold):
■Rare cheesecake
100g biscuit
30g melted butter
200g cream cheese
90g sour cream
30g sugar
30g milk
6g gelatin
80g strawberry puree
200ml heavy cream
15g sugar
■Strawberry puree
220g strawberries
30g sugar
10g lemon juice
■Strawberry jelly
150g strawberry puree
35g water
5g gelatin
■Lemon jelly
200g water
10g lemon juice
40g sugar
7g gelatin
strawberries …" …More
Sugar and Carbs:
[1] Strawberries are another delicious, sweet, and filling fruit that you can eat in moderation on the keto diet. A cup serving of sliced strawberries contains about 4.7 g of net carbs and 4.1 g of sugar. As there are only 27 calories in the aforementioned serving, you can eat strawberries raw, add a few pieces to your cereal, or blend a handful into a small low-carb smoothie. Strawberries also have antioxidant and anti-inflammatory benefits, per a study published in February 2010 in the Journal of Medicinal Food . The same ½ cup provides 48.8 mg of vitamin C (81.3 percent DV), 127 mg of potassium (2.7 percent DV), and 20 micrograms of folate (5 percent DV). …" …More