Ahh Fangs, so rough on ya, all this stuff! I hope Bolt will be well and his meds will make his condition a lot more manageable. Wish there were better pet insurance.
@Karen18 what beautiful photos as always! What a nice time, chatting with that man in the coffee shop. I laughed about him taking out his hearing aids - who wants to hear that noise better?? And the prison cafe manager - sod the people in high places! LOL


This morning I heard again from my brother's gf, long call. These calls eat up my day but I'm still glad I can help. It's been a day full of calls from here and there, and texts from friends with bad news, just a long phone day. But we went to Kerrville, about a 40 min drive, to get wood for some steps off the porch that will lead to a part of the yard we haven't used. It will be nice and shady over there and hubby has worked at clearing it for a few years. He's built an Adirondack chair and will build another, and the ottomans, and it will be a great place to relax.
While we were at Lowe's I checked their plant sale and got a couple big gerbera daisies to pot, some begonias and vincas to put in hanging pots between those hummingbird feeders on the deck. We have 4 plants between the hummingbird feeders on the front porch already. These will live about 6 weeks as we're going to Virginia again in mid-September. I took Mimsy with us and popped her in the shopping cart. I'm determined that she will stay exposed to people while we're here!
So we didn't eat anything past coffee until 3pm, and we didn't walk because of the phone call, looking forward to getting back to that! I had quite a bit of the whole chicken left from the sous vide at the beginning of the week so broke it up, rolled it in beaten egg and pork rind crumbs and fried it in the bacon grease from yesterday. He loves those, I needed mayo. Stuff like that tastes dry to me. Next time I'll wrap it in bacon! Then I took the rest of the beaten egg and fixed us each a plain omelet to use it up. It was a decent meal.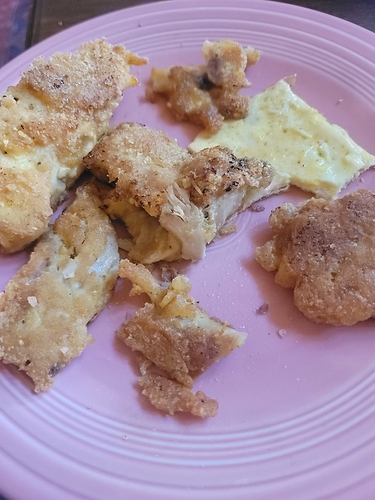 I'm doing cold brew coffee, found my filter and have been soaking the coffee grounds for a day or so in a quart jar on the counter. What I made the other day was great and lasted 2 days. I made another quart today, it's on the counter.
Checking the prices of yogurt I was disappointed yesterday, as I plan to make smoothies for him. I got just a 1c plain greek one and used some of it to make 2qts yogurt today in the instant pot. I won't be partaking in that yogurt - it's still post-covid gross smelling to me, so I'll give that a pass. But 2qt will be half the price of the quart container I didn't buy and it's for smoothies. Who cares if it's the best tasting yogurt in the world??
Tonight the rest of the chicken and a couple diced eggs with some mayo for supper. Long day.