Sorry 8 have had to skim through all the posts, had a busy old day today.
As the weather temp has increased so much I did gentle stair runs today, still 100 flights just took it steady. Had the fan on with windows open upstairs and the front door open at bottom of stairs! Phew sweaty weather.
Watered containers and had a leisurely bath before getting to bank, doctors (to change my appt time next week, and then off to Leicester to catch up with my ex/bf. Had a super brunch/late lunch lol mixed grill and didn't realise till the end of the meal that they hadn't put the fried eggs on … my fault, when I was ordering the usual no chips no side salad no 9 ion rings no tomato I inadvertently add just meat meat and more meat lol when the waiter came afterwards I said wasn't there supposed to be eggs so he said what he told the chef and then said but the chef added more chicken and sausages as it didn't look much without all the chips etc

when he asked if we wanted desert I said yes please 2 fried eggs!

he saw the funny side thankfully.
After the meal we went over to Market Harborough for a brew and sit down at the wharf watching the canal and long boats.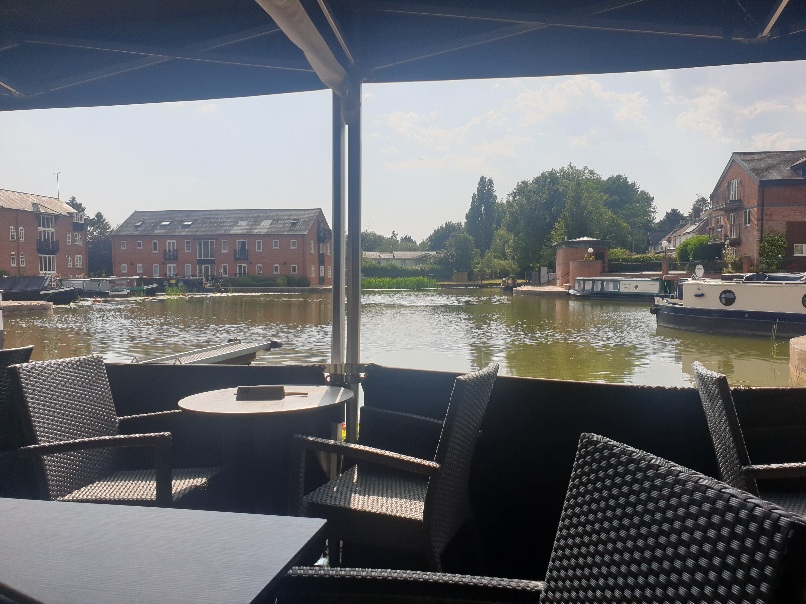 Got home about 7.15pm and feel quite positive as it the first drive of that distance on my own since my stroke … testing the waters. Super nice afternoon/early evening.
Just had a bit of cheddar, some Hungarian salami and a packet of cold water prawns (150g)