It's funny, I was just sitting here taking a break between a couple of large projects I'm working on, and just starting thinking about what is true thirst, hunger, etc. And actually just posted something along the same lines in the IF/EF Fasting thread. Basically speaking about how food smells, sights, etc. can make one break a Fast. And I get how/why some folks don't even want to speak about foods for that reason.
But I was also just about to create a thread speaking about Hunger. … But as to 'hydration' I remember reading post where this was talked about, and it was mentioned that the words 'hydration, hydrate, etc. started being used more-so over just simply 'thirst or thirsty' when the selling of water became such a big deal. (I also have to mention that 'buying' water, is one of my only pet peeves. I HATE hate buying water! - It's a commodity that I have always felt should be free & here it's gotten so big for some folks.
A simple web search provides so much data, that none would ever be able to traverse it all. Such as the example shown below. … Nearly 8 million results?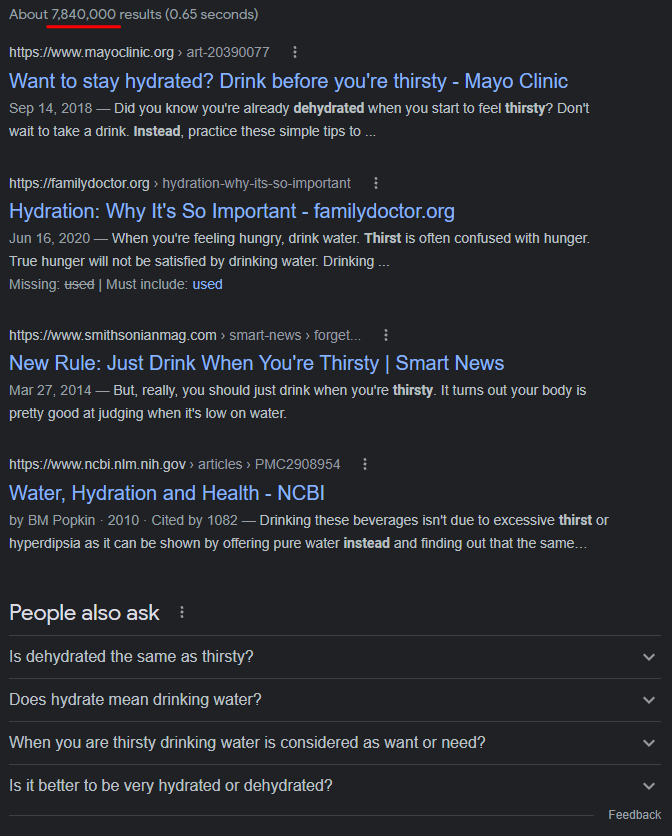 And when I looked at the water bottle I have sitting on the desk, I read the advert they love to stamp on all their products, explaining why 'their' product is just the bestest, grandest, thing ever, etc. I just shake my head. - Yep, I bought this one last week when I was out scoping/engineering a couple sites, and had accidentally left my 'Glass' refillable water bottle on my desk when I left. - So I do occasionally have buy one such as this, and simply use it for quite a while refilling it at home or the office. To which I generally also hear how one should not do this because it's plastic, etc. I've also read up on this of course, but I also don't leave them sitting out in direct sunlight, etc. And it hasn't killed me yet, so, yeah…
But I do probably use the color of my urine as basically the only thing that brings hydration to mind.
Oh, and here's that silly advert I spoke of. Not from mine, since a quick search provided one close to what mine says, and not sure I could get a clear image for posting. … But mine also adds; they one-up'd nature by adding electrolytes for a crisp, clean taste.