OK so I've been teasing this for a while. Hope this helps someone. Here's my 7-day rolling average weight graph from 2017 (over a year after I started LCHF) to today: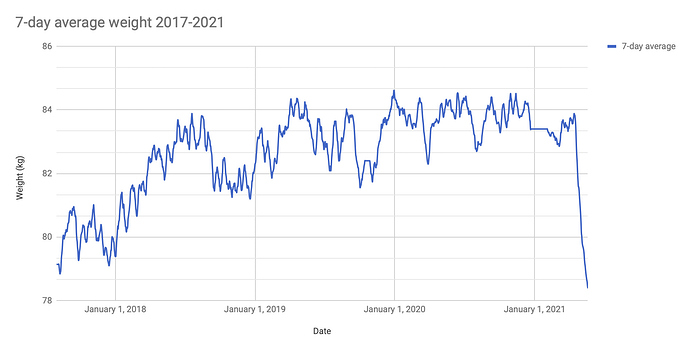 If I may draw your attention to the right side of that graph, you'll notice when I began a slight change of diet, as advised by my doctor. That steep cliff began just 37 days ago, or a bit over 5 weeks.
I wish I'd started earlier so I could show you more data. I also don't have my blood results back but I'll append them below as they come in. Tomorrow I'm checking insulin, CRP, ALT (and expecting a drop in all 3) and then in a couple of months I'll have a more comprehensive set of blood panels so, if you like, you can learn from my self-experimentation.
Why did I put it off so long? My doctor put me on a low lectin diet, primarily because he saw that I might have some autoimmune issues resulting from my diet – but all the "flavours" of his diet begin with 2 weeks of strict carnivore. This seemed daunting, because frankly I like my cappuccinos, so I waited forever to begin, but I'm very glad I did. Following the initial carnivore induction period, you add 1 ingredient from an approved list every 3 days. And so I did. It's basically an elimination diet.
What was I doing wrong before? Frankly, we're still figuring out if the lectin issue is relevant in my case; I actually think the problem with my stall was a lot less exotic than all that:
3 half-and-half cappuccinos in the early afternoon most days. Too much lactose. Might have been fine if I was just doing cream, but the milk is killer.
Snacking. Lots of grazing on cheese and peanut butter intermittently between "meals." I was only really having 1 big meal per day, but lots of snacking.
Late night eating, late night snacking.
Cheating with high carb stuff too often.
Regularly consuming dark chocolate… that wasn't dark enough. First I started with 100% dark choc, years ago. Slowly, that percentage of cocoa mass crept down!
So for the past few weeks, I've been eating meat, cauliflower, eggs, and I added goat cheese and goat butter and a couple of other things. No alcohol, no coffee, nothing. Super clean eating.
I am reminded of my initial weight loss in 2016, which is not included in the above graph. I dropped 10kg in 10 weeks and was eating super super clean. Feels good!
Not sure how long the rapid weight loss will continue, but I'll keep you updated. Maybe this will inspire someone to recommit to really clean eating. It might just break your stall!