Wagon falling is probably rife in any community of people who take an interest in nutrition. But the psychology of shape shame, and admitting a lesson learnt from a mistake, oppresses us into silence.
The addictions, cravings, guilt, self criticism and social pressures are all wonky hurdles the wagon fallen must face and on stumble as they/we try to get back on it.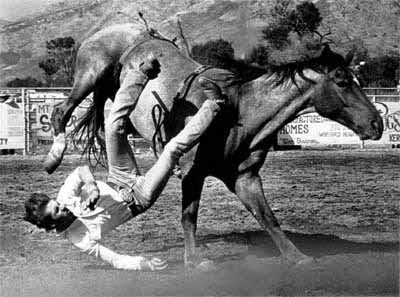 Horse falling has also been alluded to in brave posts in these forums. And for those who ride the highest horses, the fall and floor can be hardest.
We all start this thing inspired and convinced we will never fail, never fall. It feels so good after all. We look back down the path and think, "I'm never going back there". And then just as we turn forward again the tree branch hits.
A heavy fall may result in a personal reassessment on eating that high horse, along with a side of claims (claims to oneself and the community of how perfect one will be in the lifestyle or woe. Perfect woe) and, for dessert, one's hat. Then, having wasted that time, dust off and continue on toward better health on-foot and under one's own steam. The weight bearing movement, especially with the self applied guilt load, will be beneficial and is an irresistible form of resistance training.
My best guess is that falling off keto and finding a way back to it might actually be the most common manifestation in the community.
The silent deep sea of souls watching those nearer the light exclaim their joys and progress, and in so doing dragging us up with them on a tide of hope.
We are all just slip sliding (like the ice skaters on the Titanic's rink in a stormy sea) between the clear consequences and ill health of dysfunctional eating, and the golden glow of weight loss goals, nutritional wisdom, better bio-markers and extended health span beckoning on the horizon.
Maybe? Fill me with philosophy.