As background, I've been low carb/keto since 1/1/14. In that time, I have tried the following (a PARTIAL list);
High fat a la Jimmy Moore; lower fat a la Ted Naiman; very high saturated fat a la FireInABottle
Resistant starch and probiotics
Paleo, Primal (basically, paleo but with dairy), near carnivore
Liver protocol
Iodine loading regimen
Many different vitamins, minerals; many combinations of same
Intermittent and long term (longest, 5.5 days) fasting
Bought a year's supply of Free Style Libre CGM from Sweden so that I could test things like whether very high protein caused blood sugar increses
Tested and compared many different blood sugar and ketone meters
Compared different types of ketone measurements, urine, breath, blood
Does apple cider vinegar actually lower blood sugar?
Does alcohol lower blood sugar?
Does protein/fat increase/decrease ketones/blood sugar?
Dairy? I've not eaten dairy and eaten dairy.
Does eating later at night cause an increase in morning blood sugar?
Targeted keto diet, with high saturated fat and carbs after exercising (And: is there a benefit to eating carbs + saturated fat over just high saturated fat?)
After testing all these things, I can honestly say that for most of them, I have no idea. While I liked very high saturated fat (seemed cause a dramatic decrease in hunger), I still can't tell whether high fat is better than low fat, other than if I want to eat higher fat, I try to eat foods higher in saturated fat. Yet, I can eat a low fat meal, say of ham or shrimp, and feel fine. And that's basically it.
As for whether protein "causes" higher blood sugar (or lower ketones), I can't tell. It never seemed to for me, but you have to understand that if you decrease protein, you increase fat. Thus, how do know which causes what? (And let's not even get near the fact that the meters we use are so error prone as to be mainly useless, other than for gross measurements.)
If you've heard of the Dunning-Kruger effect, I'm basically at the right end of this curve, basically where the more you know, the less clear things become: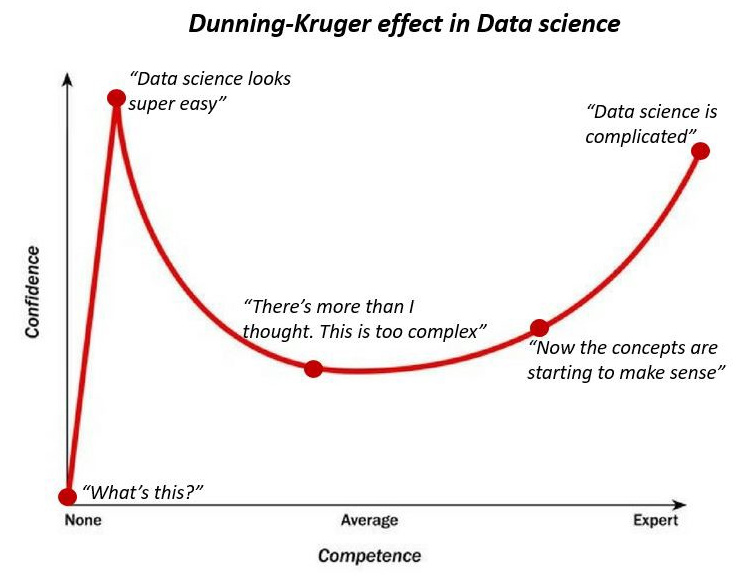 See:
This is in data science field, but you can find similar concepts in other fields.
And when I listen to the people in this podcast, who are virologists who have spent their entire lives studying virology, they say "I (or we) don't know" multiple times during the show. This particular show is with Tony Fauci, who also says he doesn't know things, because the science isn't clear:
https://www.microbe.tv/twiv/twiv-641/
And now, turning to low carb gurus (whose names I won't mention, but these are the big guns of the LC world), they seem to KNOW lock downs don't work; or KNOW covid-19 is no worse than the flu; or KNOW that people who eat low carb/keto/carnivore walk on water and have nothing to fear from covid-19; or KNOW we should follow the Swedish model; etc.
To me, this is way too much hubris with no humility. This disease is only 6 months old. It's really not possible to KNOW anything.
Furthermore, we process things through our own lenses, which often filter out what goes against our theories. This is how vegans can look through a mountain of crapidemiology (epidemiology) and make a convincing case we should be vegan. And, of course, we low carbers can do the same.
Case in point: heard a podcast of two low carb/carnivore gurus discussing the covid-19 infection on the aircraft carrier. They assumed that covid-19 would be on every exposed surface on the carrier. As someone who spent 3.5 years on a carrier, I can tell you that idea is completely ludicrous.
So, if you want to "prove" something about covid-19, it's possible to do so, as long as you ignore anything that conflicts with your theories (or you don't understand things).
Because of this, I now wonder about their other advice. That is, their low carb advice. If they are so certain about covid-19, might they also be ignoring data about low carb? If so, why then should I follow them?
And, at least on Twitter, anyone who has come out to state definitively that they KNOW what we should be doing about covid-19, I've ceased to follow them. That may become permanent.
Your thoughts?