OK, fun with my CGM. yesterday on the airplane i succumbed to eating a delicious, large warm, chocolate filled cookie. Stuck in my seat I had plenty of time to track my blood glucose which started about 90.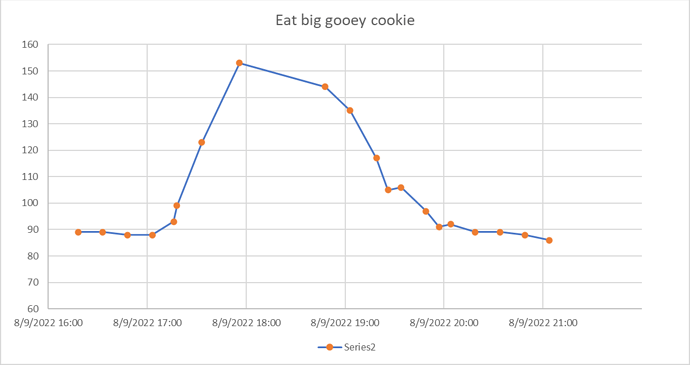 as you can see, my blood sugar SCREAMED on up to 153 and may have gone a little higher, an increase of 60+. Of course it dove back on down and was back to normal within 2 hours of eating this sugar bomb. Seems like an awfully big response.
Every morning I get up and my blood sugar goes up to say 100 and stays there a while but is back to 90 or lower by lunch time.
But today I spent 80 minutes on the treadmill at 3.7 mph.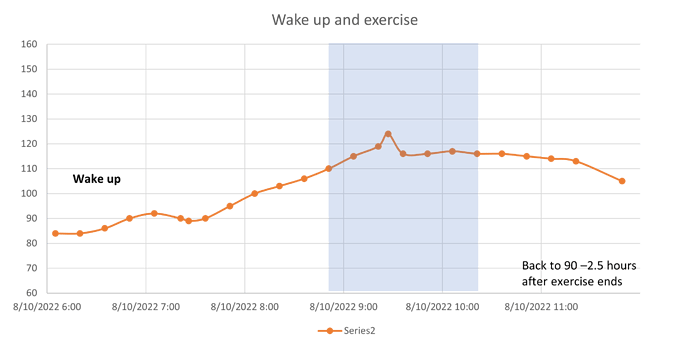 Images are the same scale. here the blood sugar went up to 115 +/- and takes its time coming back down. This is pretty much reproducible.
Your thoughts – I am just coming BACK to keto from my normal state which was perenially prediabetic. that cleans up quickly enough after a few months of keto…
I am not quite sure how to interpret these and I'd love advice from any experts out there