Hat tip to Mark's Daily Apple for this.
Here's a blog post by Peter D. He appears to be arguing that insulin resistant people are less likely to gain weight:
The Pima Indian study is here and you can download it:
They use a "Hyperinsulinemic-euglycemic clamp technique" to measure insulin resistance. This is described here:

They really do get these curves (these are the modified ones from Peter's blog), where the most insulin resistant gain the least weight and the most insulin sensitive gain the most weight.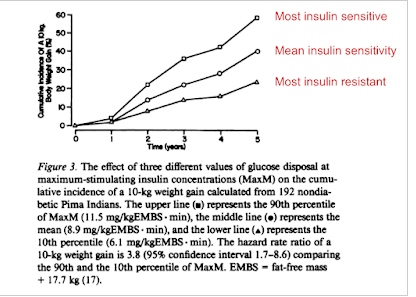 Much like MIMO (mass in, mass out), I can't wrap my head around this and don't know what to do with it.