Before the stay at home orders (CT, USA), I was moving to body weight exercises, though I still went to the gym. Since the stay at home orders, I've built my own gym. It's shown below. The cables are TRX cables that I bought last year when they were on sale (these are the "old" model, and they had just come out with a new model). Those were installed before stay-at-home. The mat, I pilfered from my daughters. The exercise ball, I had. I bought the pull up bar and the dip bar (good for L-sits too) just before they weren't available. I also have tire/rim combos that I use for farmer's walk.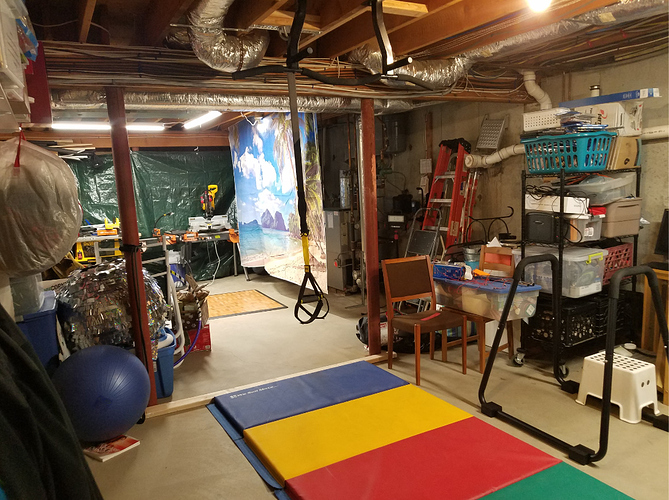 When we put in the pull up bar, the joist cracked. So, I sistered it with wood. I also put 2x4 braces between the joists to limit side-to-side movement.
I can take up the 2x4 between the poles, then take up the mat and wrap the TRX cables around the pull up bar, and everything is out of the way.
I've made a lighting improvement since this. Two LED strip lights are on a separate switch and light up only this area, so I don't have to have all of the lights on in the basement.
Behind my gym is where my kids have dance class/karate. The floor is for tap dance, and we had to buy that. The hanging picture we had for a project my wife did last year.
What does your home gym look like?
I also have been doing "sprints" using my mountain bike. I bike about 2 minutes, going as fast and hard as I can. I then take about 2 minutes off, riding back to my starting point. I have a treadmill, too (bought years ago for when I had shoulder surgery), but luckily have not had to use it much.