So, my wife saw a post on Facebook (that thing I don't have and probably won't ever get) on a school's Facebook page from a woman who posted a letter we should all be sending to the local elementary, middle, and high schools about covid. One of the rants was about masks and how they cause "brain damage".
The engineer in my could not help but to test this theory. I live in CT and am an "essential" worker (not sure why; I'm a patent attorney and NEVER meet with clients). I go to work, and am required to wear a mask from my car to my office, and anytime I'm interacting with other people. (As a patent attorney, that's not often, other than going to the restroom.)
This is the device I used, which is a Innovo Deluxe Pulse Oximeter with Plethysmograph and Perfusion Index:
I took the tests using the same finger (middle finger, right hand) only. I took the number that resulted after not too much time had elapsed. It was whatever it said. It might have gone up or down (usually, down), but I took the reading after about 15 seconds or so. The time was not exact - I just tried to take hourly.
I have a cloth mask that has a replaceable fiber liner inside it. If you want the exact make and model, I'll have to get that from my wife.
On Monday and Tuesday, I wore my mask ONLY when required. On Wednesday and Thursday, I wore the mask from getting out of my car in the morning until I got back into my car at night.
On Wednesday and Thursday, I used a printer that was in a room separate from my office (I also have a printer in my office), so I walked quite a bit.
On Wednesday, I did not eat at work (OMAD at home), so I only took the mask off to drink. On Thursday, I exercised in the morning (which is why there are no early morning readings), and ate "lunch" (one of my two meals that day) at about 10:30 am. As soon as I was done eating, I put my mask on. The only time it was off on Thursday, therefore, was to eat and drink.
Here are the results: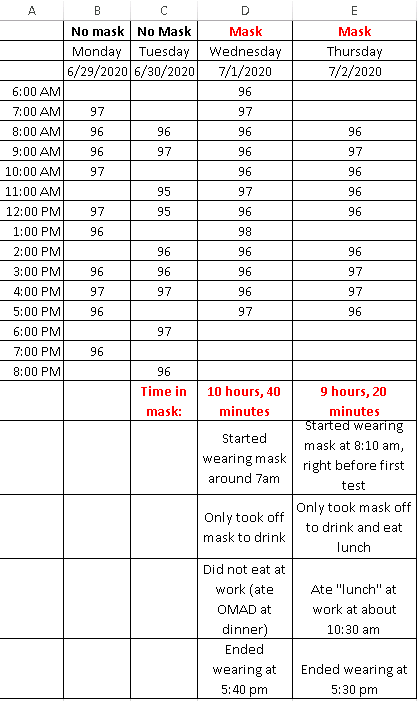 For this mask and for my body, I have zero hypoxia.
Kids/young adults wearing masks should not have a problem.