So I am a total newbie to this and am having some success but not as much as I want. Gabe's post and the two 'you tube' videos near the top of that thread had the same effect as the 'stop eating sugar and carbs' videos I watched 2 months ago did. Those videos had me changing my diet and reversing my Type II in less than 2 weeks.
The number 1 point - this is only about those wanting to lose fat. Not for those near or at their desired weight goal.
Here's the reality as far as I can tell - when you first start Keto - you go in thinking "I have carte blanche to eat all of the bacon (nuts, cheese, salad dressing, etc) I want".
This chart really drives the point home but Phinney is way too generous IMHO in the carbs @ 10%.
I don't know what knocks me in or out of ketosis but I do know (at least for me) that once on this diet the slightest amount of sugar would skyrocket my BS in a way that entire plates of pasta and huge bowls of ice cream never did when I was type II. A few raisins, 1 bite of a banana and bam! 300+ readings. I learned that early on. Don't cheat. You might as well tie your hands behind your back and stab golf pencils into your eyes by repeatedly slamming your face into the concrete.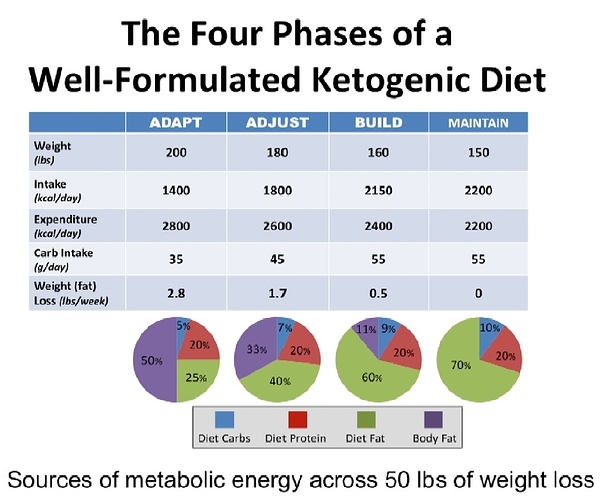 Like most I started out eating a shed load of bacon and stopped trimming the fat off of steaks or eating chicken with the skin. I roasted 2 ducks and ate all of the skin from both before harvesting the meat for freezing. I ate whole avocados, small bowls of nuts and had frustrations because I wasn't seeing the weight come off fast enough. "Of course not dummy" I said to myself… "if you really want to lose 20lbs of ugly unwanted fat you should cut off your head."
Turns out the metabolic equation doesn't magically change just because you're on keto. Duh.
Look at the chart above - the "Adapt" stage aka the "lose fat" but not the "consume fat" stage. 1400 calories a day. Very little carbs ( I believe even less as they sneak in so many doors ) some dietary fat but… wait for it… wait for it… UNLEASH HELL! A shed load of body fat! Exactly what we want.
So keto at its essence is not only low carbs and sugar but low calories and EQUALLY SO and important… er uh… CRITICAL for those wanting to lose body fat.
I tend to stock up on things (besides the energy reserves I've been carrying around on my body the last 15 years) and didn't really care how lean the bacon I bought was when I first started keto. But now I do again. Here's a photo of 4.4 oz of fat I cut off of a 1lb of bacon.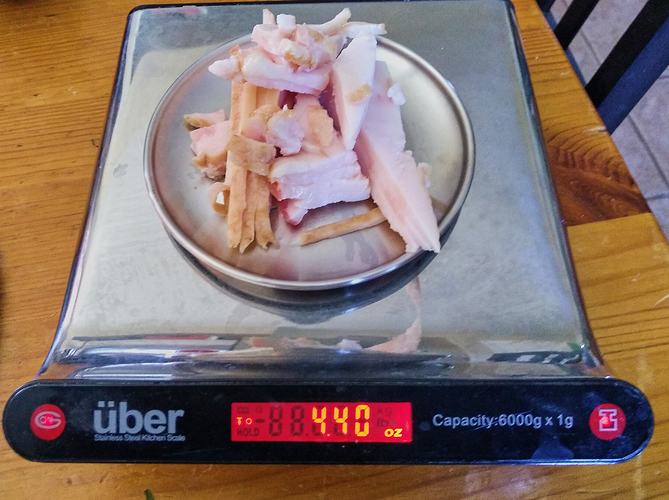 I am making changes like this across the board. A whole avocado is now a half, protein intake is adjusted to my current weight, dressings are measured out, bacon consumption is cut in half, instead of 1 or 2 duck eggs it's 1 only from now on, etc. etc.
And here's the good news to the best of my understanding.
The body isn't 100% efficient about putting weight on but is very efficient about taking it off. You can glutton out 3500 excess calories a day and won't add a 1lb a day. But for every time you have a 3500 calorie deficit that's 1lb coming off.
That little plate of trimmed bacon fat is more than 1000 calories or about 1/3 of a pound extra fat I will lose. (let's not go down the 'bacon grease on the pan, and paper towel' wormhole right now - yeah we all know and get it Mr. Science)
Last but not least track your activity level. Buy any basic watch ( I have the Polar M600 ) and track and raise your activity level. The simple metabolic math really works well on Keto because it's much more realistic when you eliminate carbs and sugars (aka bad calories).