I started low carb (LC)/keto on 1/1/14. I did not track anything until June 2016, when I started with blood sugar, then added ketones (all flavors of them), CGM, etc.
Here's June 2016, when I used to highlight morning values in green (for some of them, anyway):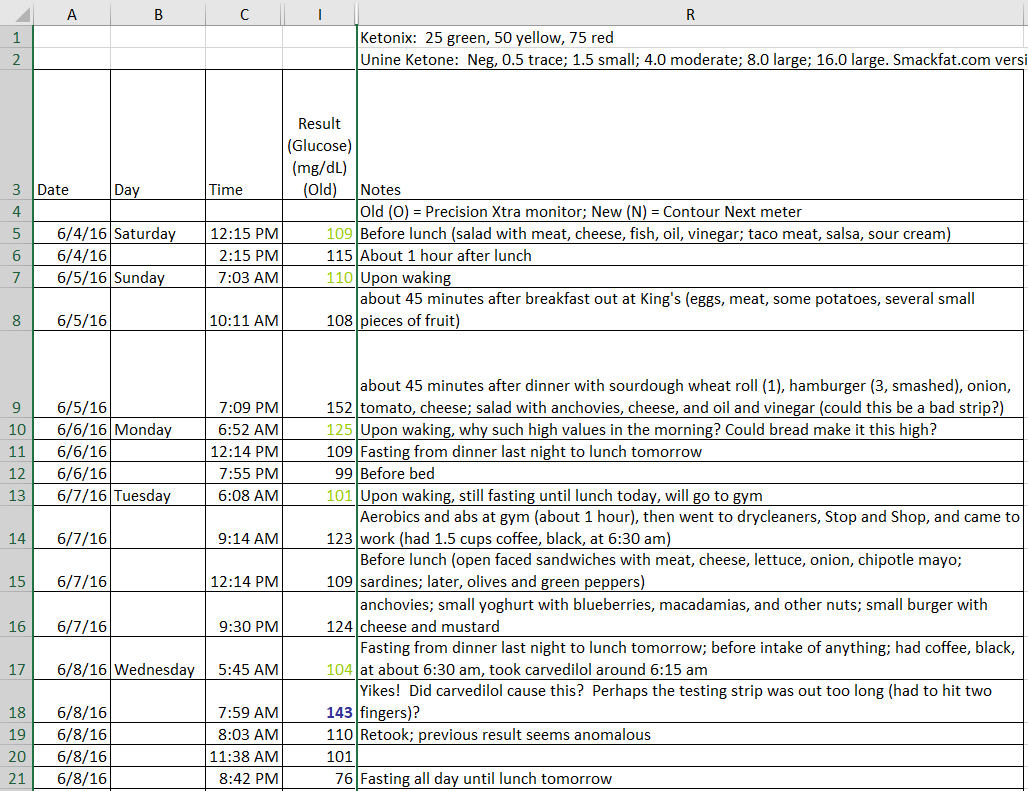 You can see that my morning blood sugar was relatively high, over 100 unless I was fasting multiple days. (Note: I think I was using a Precision Xtra monitor for blood sugar at this time, which was not a great monitor – seemed to have high error rate.)
That stayed like that until this year sometime. (And I used multiple monitors since then, Bayer Contour Ez - which is accurate - FreeStyle Libre CGM and pin prick monitor, etc.)
Fast forward to recent tests. I had stopped testing, but recently found some Free Style Libre strips. I started using them (marked morning values in red):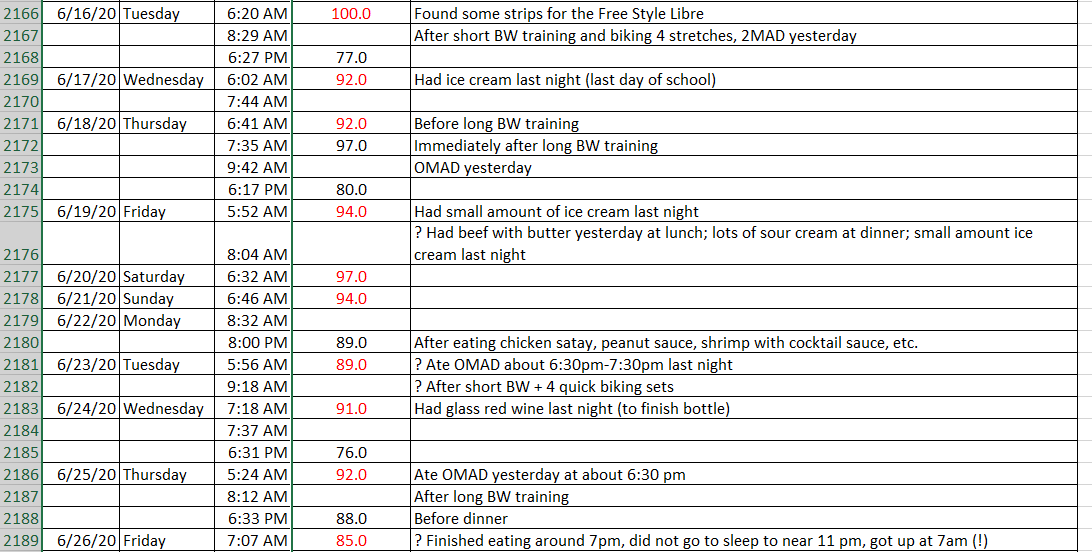 Whoa! What the heck is this?
My theories:
I was eating a very high saturated fat diet for a while. This seemed to coincide with a drop in morning blood sugar, but…

After starting the high sat fat diet, the pandemic hit. The kids were now home all the time. Instead of picking them up after activities and getting home to start eating dinner at 7:30pm or later, I've been going home much earlier and eating earlier. Last night, for instance, finished at 7pm and stayed up later than normal (11pm), but…

Since I want to have dinner with the kids, I've been getting home earlier and have been able to eat OMAD on certain days (Monday and Wednesday this week, for instance). To eat OMAD, I have to eat early (but see below); otherwise, I eat too much too late and go to bed too early. Not a good plan. But…

For some reason, I'm gaining strength. A lot of it. When the pandemic started, I could do maybe 15 or so pushups. I built up to 30. Then I started doing pseudo-one hand pushups (do a pushup mainly on the right hand, keep left hand 90 degrees away from the body, with light pressure on the left hand). I could barely do any of those. Yesterday, I did 12 of them. I'm going to have to go to true one-hand pushups (other hand behind the back), but on stairs.
So, it's (1) high sat fat, (2) eating earlier; (3) OMAD; and/or (4) muscles providing more of a blood sugar/insulin "sink".
Whatever it is…that 85 I got this morning is shocking to me, as the only way I got that before (in the morning) was to fast multiple days.
So, if you think things are never going to change…maybe just wait awhile?
An aside: I had to stop eating a high saturated fat diet. If I ate high saturated fat at my first meal of the day, I COULD NOT eat at dinner. I went out (pre-pandemic) and took my food home from a restaurant because I could not eat. I skipped dinner because I could not eat. I was physically not hungry, at all, even 7-8 hours later. Sometimes, late at night, I'd get hungry.
This was good if I was getting home at 8:30 pm with the kid(s) and they wouldn't miss a dinner with me, as I could wait the 45 minutes before I went to bed. I was able to eat OMAD at about lunch time with high saturated fat. (Or, I would fast 36 hours on those late nights.)
But wanting to eat with the family at night, I had to stop eating high saturated fat so that I would actually be hungry to eat with them at dinner.